Singapore, known as one of the most modern cities in Southeast Asia, has an efficient transport system that will benefit all, including the ageing population with limited mobility.
People looking after older adults with mobility issues, whether a family caregiver or eldercare centres, find it challenging to look for comfortable transport services for their patients. But it doesn't have to be the case in Singapore.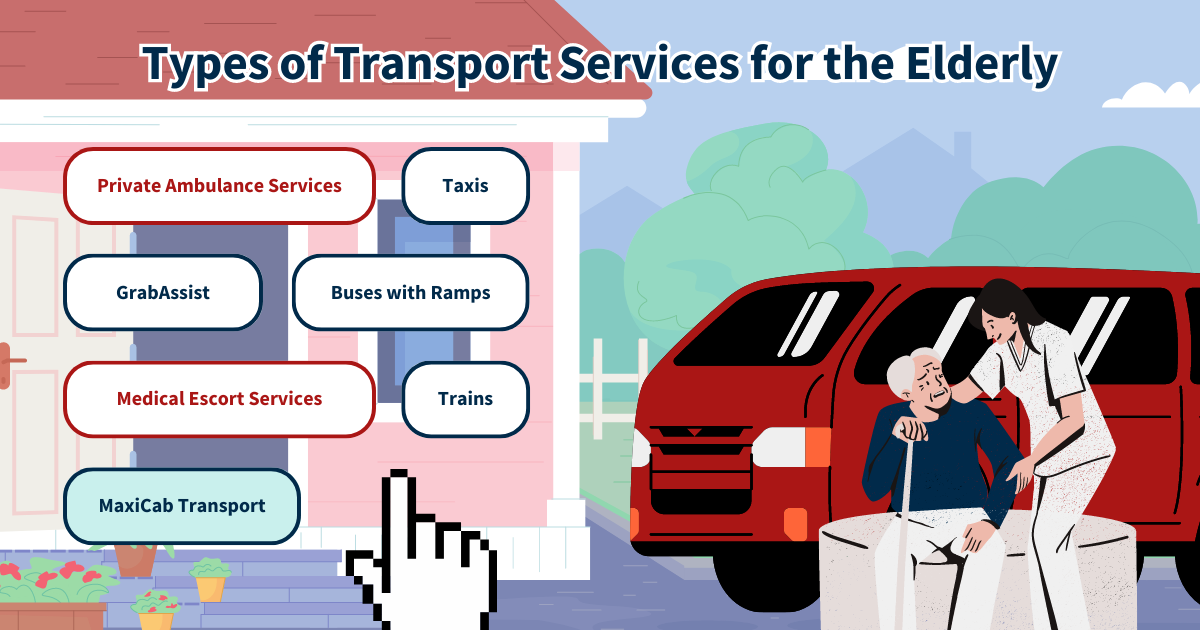 Despite the physical constraints of the patient, you'll be able to find the most suitable transport services for elderly in Singapore. You need not worry about not making it to your patients' medical appointments and treatments.
Keep reading to learn more about choosing the most suitable transport services depending on the patient's mobility constraints and physical condition.
You can find transport services to bring your elderly loved one to the hospital and safely home.
Types of Transport Services
Here are your transportation options in Singapore, depending on the patient's health conditions and mobility issues. If you are a caregiver looking for transport services, take note of the following when using public or private transport with your patients:
Bed-Bound Patients
For bed-bound patients in need of transport services to make it to their medical appointments, rehabilitation sessions, or trips and safe transfers to and fro the hospitals, it is best to get private ambulances.
Private Ambulance Services for Bed-Bound Patients
Medilink Healthcare Group
HQ: +65 6909 3202
Ambulance: +65 6909 3203
Speedoc
Ambulance: +6569097799
Google Play: Speedoc App
Ambulance Service
Ambulance: +6562818111 / +6562061188
Hope Ambulance
Road Ambulance: +65 6100 1911
Air Ambulance / International Assistance: +65 6100 2922
Raffles Medical Group
Ambulance: +6563111555
Google Play/Apple Store: Raffles Connect
In Singapore, a private ambulance offers more than just emergency support travelling. Private ambulances can also provide transportation to a loved one with limited mobility. This way, they can use the service to go to a hospital without worrying about their safety.
In addition to providing transportation to an elderly care recipient and their caregiver or medical escort, private ambulances are equipped with safety features and offer such services without time constraints.
Why can't you get an ambulance or any vehicle provided by the government? Singapore's national ambulance service provides emergency medical care with highly skilled paramedics and specialized tools. However, calling 995 is reserved for urgent cases. The Singapore Civil Defence Force (SCDF) has likewise chosen to discontinue transporting non-emergency medical cases as of 2017 to protect lives and guarantee that resources are accessible for actual crises.
Private ambulances allow you to reach hospitals for medical appointments or treatments of a loved one in time. Moreover, you can use the service along with a medical escort transport to provide personal care while in transit.
These private ambulances provide support and a comfortable transport system to bedridden patients. They are equipped with hydraulic lifts to assist in moving patients. Medical escort services can use the ambulance's oxygen or set up an IV drip while going to a hospital. This mode of transportation will provide personal attention to a patient on their way to treatments.
Wheelchair Patients
You have two options if you're looking for wheelchair-friendly transport service: wheelchair-accessible taxis and cabs or wheelchair-friendly buses and other wheelchair-accessible public modes of transportation.
Transport Services for Wheelchair Patients
Wheel-Chair Accessible Taxi (WAT)
Maxi Cab – Call (+65) 8333 6006
GrabAssist via Grab app
Public transport services
Trains and buses are two of the main transportation services in Singapore. Likewise, the Land Transport Authority issued a transport network plan for the elderly. You can read more in this notice from MOH.
Wheel-Chair Accessible Taxi:
Whether you're going to specialist outpatient clinics or any Singapore hospitals, or you are unable to book a private ambulance, and you don't want your patient to ride public transport for safety reasons, it's best to dial a ride with any wheelchair-accessible taxis in Singapore:
Maxi Cab Transport
This transport service has a seating capacity of seven, plus a dedicated space for a patient in a wheelchair. You only need to call its number to book a service.
GrabAssist
This is the on-demand transport service of Grab for patients with mobility problems. You can request a transport service that can accommodate collapsible scooters, walking sticks, or wheelchairs. Aside from an accessible vehicle, you will also be assisted by a Grab driver trained in handling patients with mobility concerns.
To use the transport service, download the app. Indicate your pick-up point and where you're headed. Lastly, choose the GrabAssist option.
Public Transport
The accessibility of Singapore's public transportation for people with mobility impairments is improving. Wheelchair-bound patients can easily navigate the MRT thanks to its barrier-free pathways and restrooms. Moreover, ramps for wheelchair users have been installed at designated points.
More than 50 per cent of buses have ramps constructed in the country. This transport feature makes buses wheelchair-accessible. Plus, about 95 per cent of bus stops in the country are barrier-free.
Aside from various transport services that align with institutions' goals, such as the Singapore Red Cross and Handicaps Welfare Association, people with disabilities are assured of their safety when travelling with or without a medical escort or companion.
In Singapore, almost 95 per cent of pedestrian pathways, taxi stops, and bus shelters are barrier-free. This service allows wheelchair users, the elderly, and those with sensory impairments easy access despite their battles with their own health conditions.
Final Thoughts
Now that you know about the public and private transport services you can book and use, you don't have to worry about your ageing loved one missing their medical appointments or having no means for round-trip service to the hospital. Not unless you don't have a full-time caregiver and you have a job eating most of your schedule.
In this case, you may want to look into the top medical escort service in Singapore. Medical escorts offering a medical escort service are qualified individuals (often nurses or certified care assistants) who accompany your loved one during medical appointments or hospital visits.
Your medical escort can book the vehicle the patient will use. These medical escorts will accompany your loved one on a round-trip transport from the house to the hospital to make it to their medical appointment and then back home safely.
In Singapore, you can count on RC Caregivers to provide a reliable medical escort service. This agency, which services include Singapore elderly care, will ensure your family will not miss a medical appointment to help them improve their health and well-being.